Many companies use MS Teams as their primary communication tool. Mine is no exception! Unfortunately, Microsoft has no version available that runs on Linux. Which, quite frankly, sucks! It runs on Android, which is a Linux distro. So why not Ubuntu?!?!
You can run Microsoft Teams via your browser, but the voice and audio features will not work. It works well if you need to use the text chat features, though.
See below how it looks like in Chrome: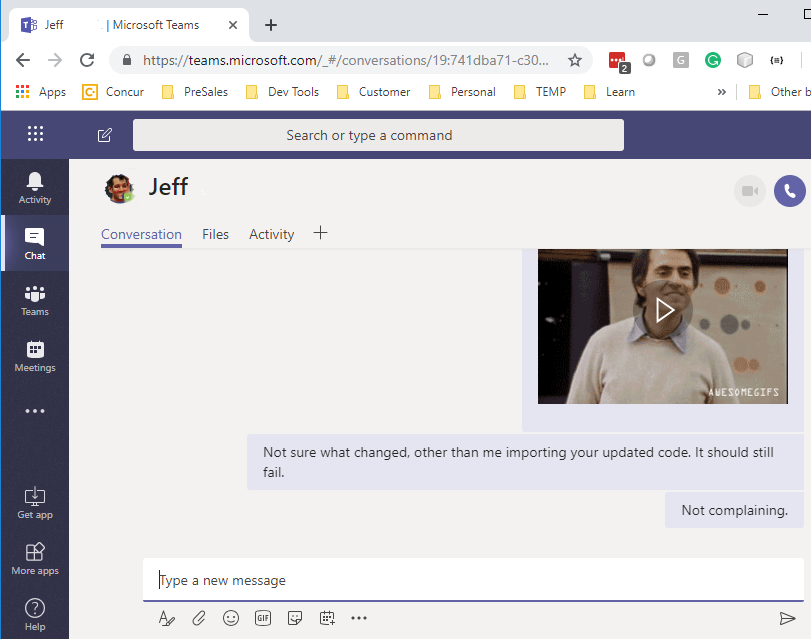 In comes Anbox!
Since Microsoft Teams runs on Android, why not run a hypervisor on Ubuntu that runs Android! Initially, I thought of using a hypervisor such a VirtualBox to run Android, but then I discovered Anbox!
Special thanks to LaptopNija! :-)
Anbox is lightweight and functions much like Wine, but it is Wine. Anbox is not quite a hypervisor either.
As per Laptop Ninja - "Anbox puts the Android operating system into a container, abstracts hardware access, and integrates core system services into a GNU/Linux system. As a result, every Android application will be integrated with your operating system like any other native application."
Installing Microsoft Teams on Android via Anbox
I recommend that you visit how to install and run Android apps on Ubuntu with Anbox for the Anbox install process.
Visit APK Mirror to download MS Teams to your Ubuntu machine when you are done installing Anbox.
The Anbox FAQ will show you how to install the APK application. See Linux Uprising for a post that shows you how to install the Google Play Store.
These links will help you get a running Android environment. Installing Microsoft Teams on Ubuntu will take no time at all!
Follow me on Twitter at https://twitter.com/OnlineAnto to get updates to my posts! Read other great
You may also be interested in
---
About the Authors
Anto's editorial team loves the cloud as much as you! Each member of Anto's editorial team is a Cloud expert in their own right. Anto Online takes great pride in helping fellow Cloud enthusiasts. Let us know if you have an excellent idea for the next topic! Contact Anto Online if you want to contribute.
Support the Cause
Support Anto Online and buy us a coffee. Anything is possible with coffee and code.
---