SEO is so relevant in this era that no website can afford to ignore it. One of the best ways to put this technique into practice is using plugins on WordPress. They make work more accessible, especially when optimizing the content. But, there has been a significant increase in SEO plugins.
As such, it makes it difficult for people to find the best. This is why we have decided to develop a list of plugins that will boost your rankings. Always test new plugins and see how to affect you as well as your SEO strategy.
1. YoastSEO
YoastSEO is the best and one of the most used plugins. We love it because it consists of many features and has a user-friendly design. In addition, YoastSEO gives you advice on keyword positioning, readability, and much more.
Once you start using this plugin, then there is no going back. It receives impressive updates from making your site better now and then.
Features of Yoast SEO include
Readability checker
Meta description adjusting
Keywords analyzer
Optimize AMP pages
Premium membership that provides free support
XML sitemap
2. Rank Math
On-page SEO has never been easier than with Rank Math. This is your one-stop solution for most of your SEO problems. It allows you to optimize your product pages, posts, and other Taxonomies. Furthermore, you can also control no follow, no archive, and no index of your pages. This plugin has the most incredible features and the most excellent UI.
Features of Rank Math
Rich Snippets markup
Redirection (451, 410,307,302,301)
Search Console Integration
This app will do the best job when it comes to fixing all your redirection issues. Besides, it has a 404 error monitor that will show o the exact number of visitors and URLs affected.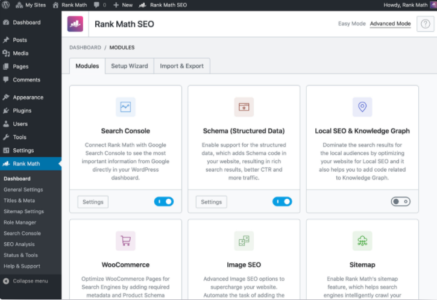 3. Google site Kit
The Google Site Kit plugin integrates with Google Analytics, AdSense, and Google Search Console. In other words, they offer all their services to WordPress users under one plugin. Therefore, Google site Kit is the best option because it saves you from installing so many plugins that will slow your site.
4. Easy table of contents
Long posts can be boring if they are not broken down into sections. This is the main reason why Google encourages using a Table of contents. It makes the content easy to scan, and the readers can get the information that they need in less time.
Before using the TOC, you must ensure that your content is well-structured. For example, it must be divided into sensible subheadings. The Easy Table of Contents plugin makes your content easier to navigate.
It will positively affect SEO by improving factors such as dwell time, bounce rate, and on-page. Another great advantage of the TOC tool is that it helps one win jump links in SERPs.
5. SEOPress
This is another free SEO tool that can improve your SEO game. It contains a lot of features, and yet it is lightweight. Meaning it does not cause any adverse effect on your website speed. This app contains quality features that compete with other plugins, such as Rank Math and YOAST SEO.
It is designed to allow your content to rank higher in the search results with a click of a few buttons. Furthermore, it is easy to use and assembles all the SEO elements, making the work easy. Once you install this plugin, you will not have much to worry about but concentrate on creating quality content.
6. Broken Link Checker
Broken links can harm your pages in terms of ranking. This plugin helps in looking for the pages that aren't loading. Whether internal or external, this tool will show you the status of all of them.
Broken link checker provides the HTTP status of each link, hence making it easy to fix. The best thing is that it runs in the background allowing you to find the broken link as early as possible.
7. The SEO framework
As you can see, there are many choices as far as SEO is concerned. But only a few plugins can make a significant change to your sites. The SEO framework is one of them. So far, it has more than 20,000 active installations because it provides quality services.
This is the tool to use if you want something lightweight and one that is easy to use. Another great advantage of using the SEO framework is that you can add more functionalities by the use of extensions such as:
An AMP integration
Local SEO
Article enhancement
Incognito mode
Monitoring for uptime and SEO
Redirects
8. Shortpixel
To make your website load faster than you need to compress the images. This is because they load slowly every time one loads our website. Shortpixel is the best plugin that you can use to optimize and compress images.
Image optimization can increase our page loading speed, which significantly affects SEO. Sing this plugin is super easy. Install and choose a few settings, and the images will be optimized automatically. In addition, it features compression options such as lossless, glossy, and lossy.
Shortpixel works with PNG, JPG, PDF, and GIF formats. If you want to optimize the images on your website, you can use the bulk image optimization option.
Final Thoughts
There are plenty of plugins to choose from as far as SEO is concerned. This has stirred a lot of confusion for people looking for the ultimate plugin that will solve most of their SEO needs. The list above has been selected carefully after intensive research and honest user reviews. We do not recommend using too many SEO plugins either. It takes time to find the right plugin considering your site needs.
Lastly, why not read our post SEO blueprint to get massive organic traffic? We think you will like it!
---
About the Authors
Anto's editorial team loves the cloud as much as you! Each member of Anto's editorial team is a Cloud expert in their own right. Anto Online takes great pride in helping fellow Cloud enthusiasts. Let us know if you have an excellent idea for the next topic! Contact Anto Online if you want to contribute.
Support the Cause
Support Anto Online and buy us a coffee. Anything is possible with coffee and code.
---