Ansible is an open-source, simple, and robust IT automation tool, much like Chef. It helps automate repetitive tasks that save time, such as setting up AWS S3 buckets and much more. Ansible can also do configuration management, and it is super easy to use. This Ansible infographic will help you understand the fundamental concepts.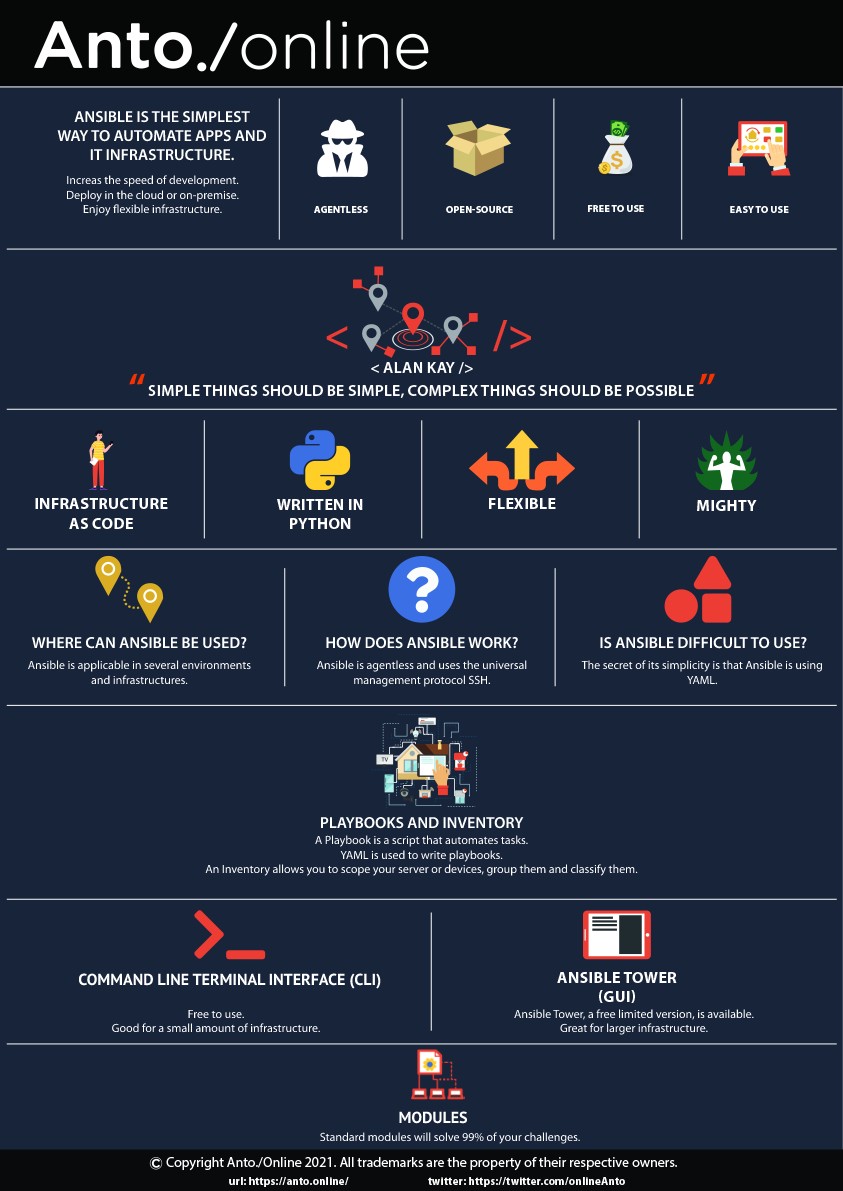 Ansible works by connecting several nodes/machines over SSH. SSH is a secure program that connects to a remote machine and runs commands on that machine. Furthermore, it encrypts all the communication between these machines.
Here are some reasons why you should use Ansible:
Ansible is secure because it uses SSH to communicate with other machines.
There are about 750+ modules that Ansible uses to automate different tasks on your behalf. Most of its modules are in Python, but you can also write your modules using your favorite language.
It saves time and increases productivity. You can decrease the time of your tasks even from hours to minutes.
By using Ansible, you can remove repetitive tasks. As a result, you do not have to do the same task over and over again.
You are likely to make fewer mistakes and errors once you automate your tasks using Ansible.
The use of Ansible reduces complexity and makes your tasks simple.
This language describes the automation of your tasks. It uses a simple human-readable English-like language. You can either use the YAML or INI file to automate your tasks.
If you want to use Ansible, you don't need to know to code. Everybody can use it because of its simplicity.
Ansible is an agentless tool. And it does not need any extra security infrastructure and, everyone can use it.
Learn more about ansible
Do you want to learn more about Ansible? If so, then follow one of these topics:
You may also be interested in
---
About the Authors
Anto's editorial team loves the cloud as much as you! Each member of Anto's editorial team is a Cloud expert in their own right. Anto Online takes great pride in helping fellow Cloud enthusiasts. Let us know if you have an excellent idea for the next topic! Contact Anto Online if you want to contribute.
Support the Cause
Support Anto Online and buy us a coffee. Anything is possible with coffee and code.
---