Let's face it! The default WordPress login page is quite bland. If you have some impressive stuff on your site, showing the WordPress form is a bad first impression. The login form should at least reflect the greatness that the users are about to experience. So let us take a look at how you can customize the WordPress login page!
Besides, using the default WordPress login page shows that you are lazy or ordinary. This is a bad sign, especially when you want people to trust you. The good news is that customizing the login page is easy since you can do it with the help of the plugin.
1. Admin Custom Login plugin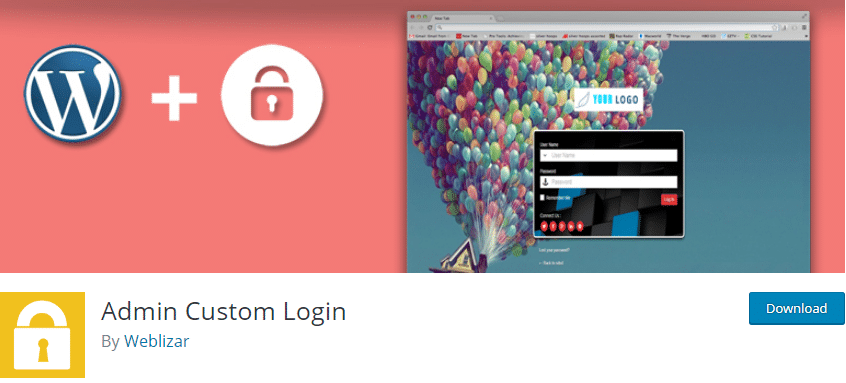 The Admin Custom Login plugin is one of the most popular login page customizers. It features a friendly and intuitive interface that makes the whole process easy and fun. In addition, the Custom login plugin comes with a variety of options that you can use to style the login page. A custom login plugin can do everything, whether changing the logo, background image fonts, or even adding a slide show.
Start by installing the plugin and then activate by clicking settings>>Admin Custom Login. You can now start experimenting by applying the variants offered by the custom login plugin.
There are many options to brand your page with this plugin. For instance, you can change the background image and color and use a slideshow. In addition, this plugin allows you to use up to 6 sliders.  But the most amazing part is that you can pick transition effects for your sliders.
The custom login plugin is unique since it allows one to add custom social icons. Besides, you can also import or export the settings somewhere else.
2. Custom login page customizer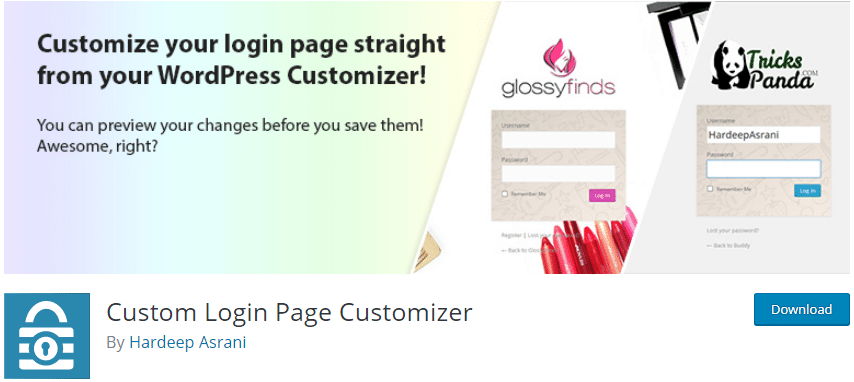 Custom login page customizer is the best and easiest plugin to customize the login page. This is because it makes use of the WordPress customizer tool. Hence you don't have to save your work and reload new tabs to check on your progress.
Using a live preview as you edit makes the work a lot easier. However, previewing while editing the pages is not the only cool thing about this plugin. It also allows you to change the background colors or use background images.
Install the plugin, activate it, and then navigate to appearance> custom login customizer. At the time of writing, this plugin has 4.9-star ratings and more than 80,000 active installations.
3. WPMU DEV BRANDA plugin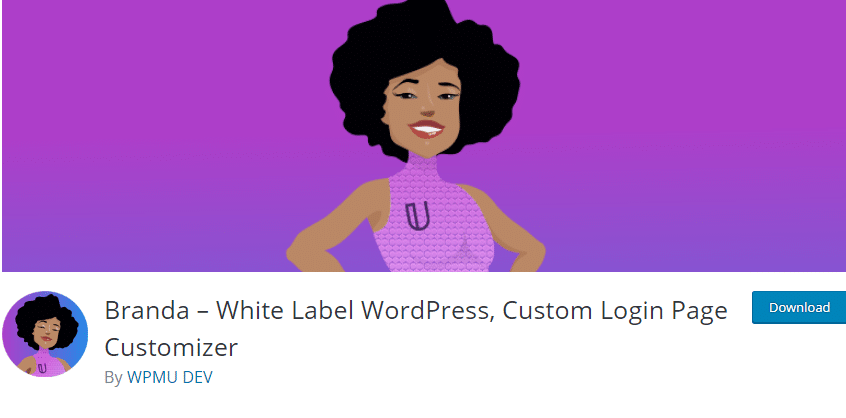 The WPMU DEV BRANDA plugin helps you to customize the login form without touching any code. So whether you want to make a few changes to an existing page or transform it completely, BRANDA is the plugin to use.
BRANDA comes with great features that will help you insert background images, adjust opacity, replace the input fields, and configure default settings.
STEPS
Install BRANDA
Open BRANDA from the WordPress Dashboard
Scroll to the front end box
Now click the pencil icon
Choose a template
Make sure the pre-designed template meets your needs
Click continue
Go ahead and replace the elements with your own.
4. Erident Custom Login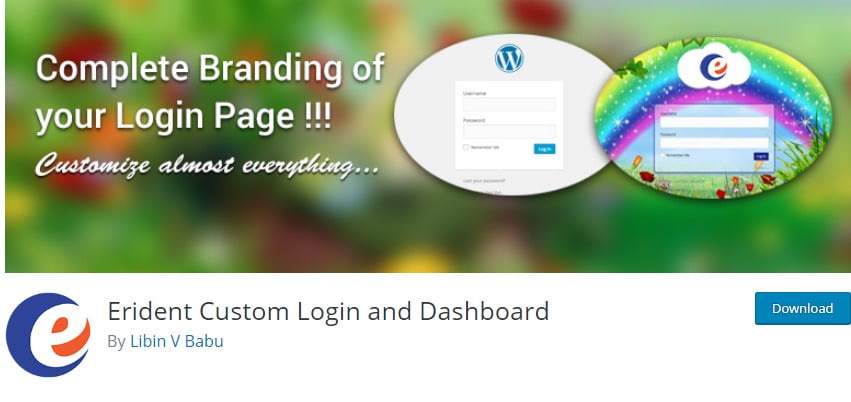 Erident custom login is a top-rated plugin for customizing your WordPress login. This plugin has more than 30,000 active installations and 135 5 star reviews at the time of writing. In addition, this plugin allows you to add your company logo, change styles, colors, and background images.
Besides, you can also customize the footer so as you can have a complete brand. This plugin is great for improving your database performance. Another amazing feature of this plugin is its translations for different languages such as Spanish, French, German, and Turkish.
The Erident customizer also supports opacity. Unfortunately, this feature is only available in a few login form editors. It also can hide the login page, back to website links, register, and lost password.
5. Login Designer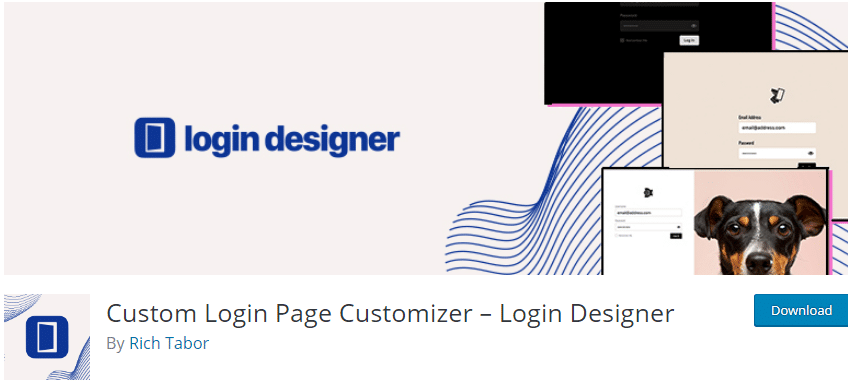 Login Designer is a recently developed plugin to help non-tech savvy website owners to customize their WordPress login pages. Unlike most plugins where you need to edit the login page and then reload on a new tab, the login designer features live editing. 
Login designer also makes editing easier by hiding other elements to concentrate on editing one element. In addition, the plugin settings and options are contextually displayed. Click on any element on the WordPress login page to edit.
6. Login Page Customize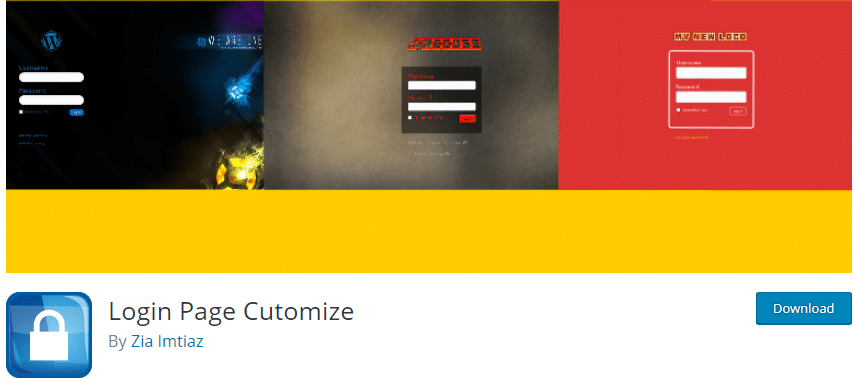 If you are looking for the most rated plugin for customizing login pages, then the Login Page Customizer is the one. It comes with an intuitive and playful settings page that features various elements to help style your page.
Click on plugins>>add new and search for "Custom login styler."
Now activate the plugin and search for the page styler from the dashboard.
You can now play with the settings until you get the best results.
However, this plugin is not 100% free. You will need to upgrade to the pro version for you to enjoy all the features. For example, you are changing the login opacity, background image, logo size, login form position, and hovering the button settings.
However, the free version is enough for making a basic custom login page. That is better than using the default WordPress form.
7. Nextend Social Login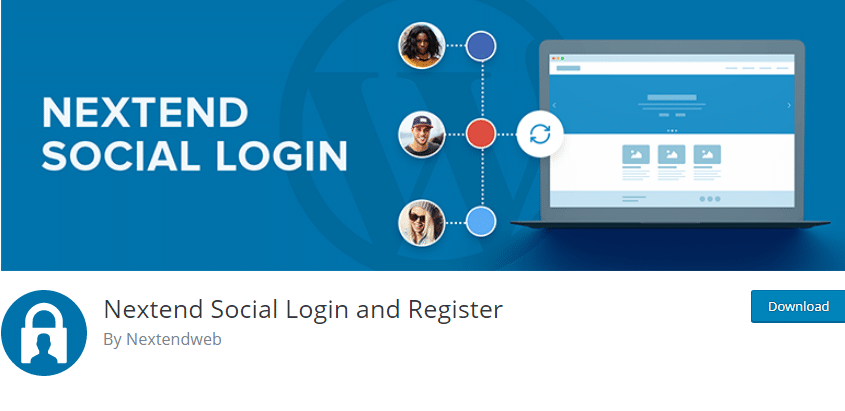 This is the most popular WordPress social login app. It has over 200 000 installations and more than 245 5-star ratings. Nextend social login integrates with the existing WordPress registration and login page seamlessly. It makes it easy for you to customize your WordPress login page. The best thing about this plugin is that even the existing users can add their social profiles.
One user can add multiple social accounts such as Facebook, Twitter, or Google. These providers make it easy for users to register or log in. Also, their profile pictures can be imported automatically, depending on user preferences.
Apart from providing social logins, this plugin also allows you to customize the login pages. The basic app is free, but you will have to pay for features or providers such as Apple, PayPal, Disqus, Yahoo, and linked in.
Wrapping up      
Your WordPress login page needs to arouse the users for something great. Otherwise, the basic WordPress layout is boring. If you are tech-savvy, you can easily manipulate the CSS of the login page to customize it. However, if you don't have such skills, you will need to go for a plugin. Some are free, while others come with more premium features. Apart from customizing the input fields, you can also go for social login to improve the user experience. So, how will you customize your WordPress login page?
You may also be interested in
---
About the Authors
Anto's editorial team loves the cloud as much as you! Each member of Anto's editorial team is a Cloud expert in their own right. Anto Online takes great pride in helping fellow Cloud enthusiasts. Let us know if you have an excellent idea for the next topic! Contact Anto Online if you want to contribute.
Support the Cause
Support Anto Online and buy us a coffee. Anything is possible with coffee and code.
---